Scrambled eggs are a staple in many homes. This is because they are so easy to make and are a perfect breakfast dish. But, did you know that there is a way to make perfect, fluffy scrambled eggs? Well, it's all in how you whisk them before cooking them. In fact, for the best dish of scrambled eggs, it's recommended that you vigorously and thoroughly whisk your eggs before cooking.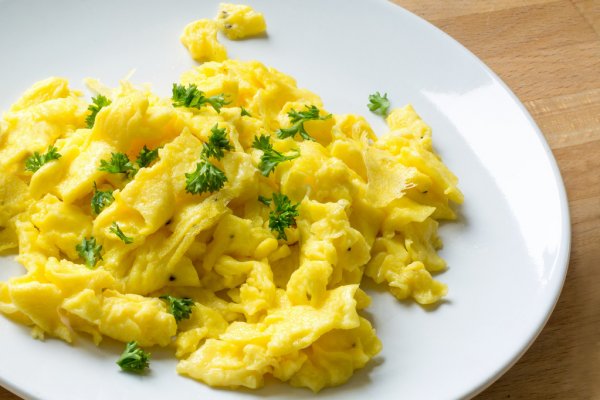 This is because when you whisk eggs, you incorporate air into the whole process, which helps create fluffier eggs. If you have made an omelet before, then you do know that this is the same process that you would take in the initial stages of your cooking process.
Another really important thing that you should take note of is to ensure that you turn off the heat just when the eggs are about to be cooked all the way through. That way, you don't end up overcooking your eggs. After all, who wants to eat rubbery eggs?
Scrambled Egg Variations
We love the versatility of scrambled eggs; you can add a few extras such as freshly chopped chives, black pepper, or anything else that you would want in your eggs. These can be added to the scramble or soon after the cooking process.
If you love cheesy eggs, then you can always add in some shredded cheddar or goat cheese. For the best cheesy scrambled eggs, we highly recommend that you add the shredded cheese just as the eggs are about to finish cooking. Doing that allows the heat from carryover cooking to melt the cheese right into the eggs.
Remember, however you like your scrambled eggs, you will be able to achieve them. That means you can even add things like sausages, bacon, potatoes, chilies, and so much more, into your dish.
Scrambled Eggs Recipe
Below are the simple steps to making the best-scrambled eggs.
Ingredients
8 large eggs
1/2 cup whole milk
2 tablespoons clarified/regular butter
Freshly ground white/black pepper, to taste
Salt, to taste
Steps to Making Scrambled Eggs
Step #1: Gather the Ingredients
The first step is to get a mixing bowl, where you will crack the eggs. You will then need to beat them all. They should turn to a pale yellow colour by the time you are done.
Step #2: Add Milk to Eggs
Next, add some milk, as well as salt and pepper before you can beat the egg mixture again. At this point, you can use any mixing tools you desire, ensuring that you beat as much air into the eggs as possible. Also, make sure that there are no lumps as you beat the eggs; this is definitely not the time to be thinking about your favourite online pokies. Alertness and attention are your best friends right now!
Step #3: Add Butter
Now, you will need to add the butter into a nonstick sauté pan and it's important that it's over medium-low heat. This allows the butter to melt without burning.
You can then pour in the eggs as soon as the butter is hot enough. At this point, we advise you not to stir the eggs just yet. Instead, wait until they start to set at the bottom. However, take note that they don't brown.
Step #4: Turn Eggs
Soon as the eggs start setting, grab a heat-resistant rubber spatula and use it to push the eggs to the centre of the pan. At the same time, make sure you tilt the pan so that the liquid egg can flow underneath the set egg. Make sure you repeat this process until there are no runny eggs left.
The next important thing that you should do is to make sure that you turn off the heat. However, you should continue stirring gently until all eggs become firm. You should also ensure that as you stir, you keep the curds as large as possible. Not only that, but this is also the time for you to add any other ingredients that you desire.
Now, you are ready to serve your scrambled eggs and make sure that you do so while the eggs are still moist.
Scrambled Eggs Cooking Tips
If you are going to be adding any other extra ingredients that are moist, such as tomatoes, you will need to be careful. Timing is everything when it comes to moist ingredients.
If your timing is wrong, you may end up with a plate full of watery eggs. Therefore, the best thing to do would be to saute those extras separately. This helps to cook off the water from the ingredients first before you can add them into your eggs.
To make sure that your pepper blends into your eggs or omelettes, make sure that you make use of finely ground white pepper. Still, black pepper is a great substitute.
Before you start cooking, have all your ingredients ready and chopped.